May 15, 2020
Coding and Compliance Audits During COVID-19
Stephanie Allard, CPC, CEMA, RHIT Senior Compliance Specialist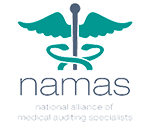 This auditing and compliance "Tip of the Week" was originally published by the National Alliance for Medical Auditing Specialists (NAMAS), a division of DoctorsManagement.
ICD-10 was officially implemented on October 1, 2015. One of the intents of moving to ICD-10 was to enable and encourage reporting diagnoses with a higher level of specificity. Many payers expect claims to contain specific codes to support the clinical indication for the procedures or services being rendered.
Over the past month I have heard comments wondering why we would continue to audit during the COVID-19 public health emergency (PHE). Many commented that with so much going on, there is not enough time, and the encounters are now telehealth so what is there to audit? I can see their perspective as there have been a lot of gradual clinical, coding and compliance changes that have been overwhelming, but what I noticed about the comments and questions was that they did not fully understand the fact that compliance is still expected.
We need to recognize the fact that while CMS has implemented multiple regulatory waivers, the changes still come with specific documentation and coding guidelines that we are to follow during this PHE. Do I think they are aware that new guidelines exist? Yes, I do think they know there are new guidelines, but I do not think they fully understand from a compliance standpoint. Much of the compliance concerns will take center stage when the PHE is over; the notes that were authored during the crisis must still clearly support the changes made to documentation and coding practices as a result of Medicare's regulatory waivers.
In the past few weeks, I have begun to audit telehealth records and I have found many variances that would not support the selected codes in the event of an external review. The two main areas I have seen the most variances in surround the Telephone Only E/M Services (99441-99443) and the Outpatient E/M Services (99201-99215).
When it comes to the telephone-only E/M codes, I have found documentation that did not include any notation of time spent. When you look at this code category you will notice that each level has a specific time range that the total time must fall within. What this means for code selection is that you cannot default to the lowest-level code, 99441, which requires a minimum of 5 minutes spent in discussion. If the provider did not document how many minutes were spent, the telephone E/M service is not supported.
When it comes to the outpatient E/M codes, I have found documentation that did not include the type of evaluation (audio-only vs. audio and video) or did not include any mention that the visit was conducted using a telehealth platform. There has been a lot of confusion surrounding the changes made for this code category and whether or not the video component is required. The video component is a requirement and the note must support that remote face-to-face contact occurred using real-time video. Using a single word like "telehealth," "telemedicine," or "telephone" is not sufficient to document the type of encounter. Instead, the documentation should clearly state that the encounter was an interactive, real-time telehealth session which included both audio and video. From a preventive education approach, we want to make sure that the providers are not documenting so little that their note could be questioned by an external reviewer. Yes, writing a single word like "telehealth" is technically defensible, but why put the notes at risk of having to go through different levels of payer review, when providers can make the documentation much stronger from the beginning? Remember that CMS does allow the use of macro statements and you can help your providers set up macros for each type of telehealth encounter that will help ensure they meet documentation requirements.
We need to remember that when documentation and coding changes occur at the rapid pace we have seen, it takes time for providers to adjust. Especially at a time like this, providers are focusing on the well-being of their patients and ensuring that they still have access to needed care. Now is the time for all of us in coding, auditing and compliance to stand alongside our providers to help them shoulder the burden of rapidly changing regulations and temporary policy waivers. We can do this by reviewing and understanding the waivers, implementing changes to workflow, and giving suggestions on documentation. If we are not auditing and reviewing the documentation, how do we know if providers are in compliance with the new COVID-19 guidelines? Will we be able to defend the claims that were billed and reimbursed during this PHE? Whether your position is auditor, practice administrator, compliance manager, or other member of the administrative team, you will not be able to assist providers or know whether they understand changes if you do not review the documentation.
This Week's Audit Tip Written By:
Stephanie Allard, CPC, CEMA, RHIT
Stephanie is a Senior Compliance Consultant with our parent company, DoctorsManagement.
What to do next…
Contact us to discuss your audit needs by calling (800) 635-4040 or email

[email protected]

.
Here's why thousands of providers trust DoctorsManagement to help improve their coding and documentation.
Quality of coders and auditors. Our US-based auditors receive ongoing training and support from our education division, NAMAS (National Alliance of Medical Auditing Specialists). All team members possess over 15 years of experience and hold both the Certified Professional Coder (CPC®) as well as the Certified Professional Medical Auditor (CPMA®) credential.
Proprietary risk-assessment technology – our auditing team uses ComplianceRiskAnalyzer(CRA)®, a sophisticated analytics solution that assesses critical risk areas. It enables our auditors to precisely select encounters that pose the greatest risk of triggering an audit so that they can be reviewed and the risk can be mitigated.
Synergy – DoctorsManagement is a full-service healthcare consultancy firm. The many departments within our firm work together to help clients rise above the complexities faced by today's healthcare professionals. As a result, you receive quality solutions from a team of individuals who are current on every aspect of the business of medicine.