July 20, 2020
Medical Necessity, MDM, and 2021 E&M Changes
Pam Vanderbilt, CPC, CPMA, CPPM, CPC-I, CEMC, CEMA, CEMA-O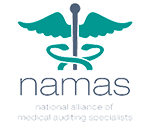 This auditing and compliance "Tip of the Week" was originally published by the National Alliance for Medical Auditing Specialists (NAMAS), a division of DoctorsManagement.
By now everyone has heard that we will no longer have to score history and exam components to determine an E&M code level for the office/outpatient CPT codes 99202-99215, beginning January 1, 2021. Instead, we will use new methods for determining the level of service based on either time or MDM.
Let's take a step back and think about what is not changing: medical necessity.
The term "medical necessity" does not appear in the AMA's CPT 2021 E&M changes document, so why do we care? Because the Social Security Act and the Medicare Claims Processing Manual require that the level of service be supported by medical necessity.
The Medicare Claims Processing Manual, chapter 12, section 30.6.1, subsection A states that "Medical necessity of a service is the overarching criterion for payment in addition to the individual requirements of a CPT code."
Notice that this does not say MDM is the overarching criterion. That is because medical necessity is the overall picture of the complexity of caring for the presenting problem(s) on the date of service based on the information provided in the history, exam, and MDM. Currently, MDM is just one of the individual key components of the E&M CPT codes.
Many organizations have created policies requiring MDM be considered to support the level of E&M to meet the medical necessity requirements. Why? Because CMS did not provide us with a specific tool to determine the level of service supported by medical necessity. Neither CMS nor CPT offers a quantification system for medical necessity. As a result, we have had to make policies on how our practice will determine medical necessity. Consider this: Medical necessity is the complexity of caring for the presenting problems for a visit, i.e. how the documentation reflects what happened in the provider's head. On the Table of Risk, the presenting problems column aligns a level of level of service to the nature of the presenting problem(s).
For example, an established patient presents for follow-up of stable diabetes and refill of the current medication. When we look at the presenting problem column on the table of risk for this stable, chronic condition, we find that this is low risk which is aligned with a level three service.
The points system we currently use to score MDM does not always equal medical necessity. This is because the tool was created as a way to quantify the MDM guidance in the 1995 and 1997 documentation guidelines, but does not always score out to match the level of complexity of caring for the presenting problem(s). Using our example above, we would score 1 point for an established problem that is stable, most likely we would have 1 point for either review or order of labs, and the prescription drug management would be moderate on the table of risk. Overall, this would be straightforward MDM which would support 99212. Medical necessity supports 99213, MDM supports 99212. Medical necessity and MDM are not equal.
Enter the 2021 E&M changes. The way we will score MDM changes significantly. No longer will we assign points for the diagnoses. Instead, we will consider the complexity of the problem(s) addressed at the visit in addition to the complexity of data reviewed and analyzed and the risk of complications and/or morbidity or mortality of patient management. If this sounds very similar to the columns we see on the table of risk, it because the new MDM table is very similar.
Sources cited:
https://www.cms.gov/Regulations-and-Guidance/Guidance/Manuals/Downloads/clm104c12.pdf
30.6.1, A.
This Week's Audit Tip Written By:
Pam Vanderbilt, CPC, CPMA, CPPM, CPC-I, CEMC, CEMA, CEMA-O
Pam is a Senior Compliance Consultant with our parent company, DoctorsManagement
What to do next…
Contact us to discuss your audit needs by calling (800) 635-4040 or email

[email protected]

.
Here's why thousands of providers trust DoctorsManagement to help improve their coding and documentation.
Quality of coders and auditors. Our US-based auditors receive ongoing training and support from our education division, NAMAS (National Alliance of Medical Auditing Specialists). All team members possess over 15 years of experience and hold both the Certified Professional Coder (CPC®) as well as the Certified Professional Medical Auditor (CPMA®) credential.
Proprietary risk-assessment technology – our auditing team uses ComplianceRiskAnalyzer(CRA)®, a sophisticated analytics solution that assesses critical risk areas. It enables our auditors to precisely select encounters that pose the greatest risk of triggering an audit so that they can be reviewed and the risk can be mitigated.
Synergy – DoctorsManagement is a full-service healthcare consultancy firm. The many departments within our firm work together to help clients rise above the complexities faced by today's healthcare professionals. As a result, you receive quality solutions from a team of individuals who are current on every aspect of the business of medicine.