April 7, 2020
CMS Clinician Letter and Update to Non-Emergent Elective Medical Services and Treatment Recommendations
I am attaching 2 links below for CMS' release just a few minutes ago. I am only providing a few of the highlights that caught my attention so please review the full documents to ensure there is nothing in there pertaining to your specific needs:
Medicare Telehealth Visits: Effective for services starting March 6, 2020, and for the duration of the COVID-19 Public Health Emergency (PHE), Medicare will make payments for Medicare telehealth services furnished to patients in broadened circumstances. During the PHE, clinicians can use popular applications that allow for video chat such as Apple FaceTime and Skype, thanks in part to enforcement discretion by the HHS Office of Civil Rights. Clinicians who seek additional privacy protections for telehealth while using video communication products should provide such services through technology vendors that offer HIPAA business associate agreements (BAAs) with their video communication products. In addition, clinicians may utilize telephone without video for other communication technology-based services.
Patients may be either a new or established patient.
These visits are the same services as would be provided during in-person visit and are paid at the same rate as in-person visits.
The patient may be located in any geographic location (not just those designated as rural), in any healthcare facility, or in their home.
The Medicare coinsurance and deductible would generally apply to these services; however, the HHS Office of the Inspector General is providing flexibility for healthcare providers to reduce or waive cost-sharing for telehealth visits paid by federal healthcare programs.
Common telehealth CPT and HCPCS codes include:
99201-99215: Office or other outpatient visits
G0425-G0427: Telehealth consultations, emergency department or initial inpatient
G0406-G0408: Follow up inpatient telehealth consultations furnished to beneficiaries in hospitals or skilled nursing facility (SNF)
Please note: In a case where two-way audio and video technology required to furnish a Medicare telehealth service might not be available, there are circumstances where prolonged, audio-only communication between the practitioner and the patient could be clinically appropriate yet not fully replace a face-to-face visit.
For the duration of the PHE for the COVID-19 pandemic, Medicare will make separate payment for audio-only visits described by CPT codes 98966-98968 and CPT codes 99441-99443 as outlined on page 125 in the Interim Final Rule with Comment: https://www.cms.gov/files/document/covid-final-ifc.pdf .
Key Considerations:
Current and projected COVID-19 cases in the community and region
Ability to implement telehealth, virtual check-ins, and/or remote monitoring
Supply of personal protective equipment available at the practice location and in the region
Staffing availability
Medical office/ambulatory service location capacity
Testing capability in the local community*
Health and age of each individual patient and their risk for severe disease
Urgency of the treatment or service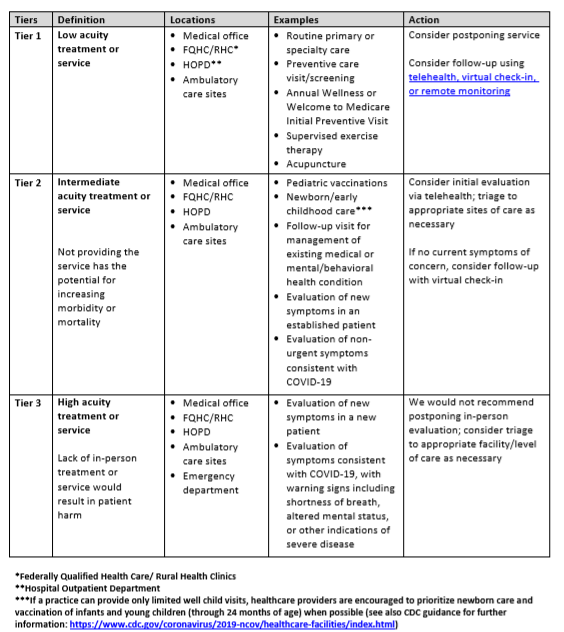 Some very good information in there for you. Again, I am trying my best to keep up with this information flow…
General Disclaimer: Advice or recommendations provided through this transmission have been given based on the review of the information provided. DoctorsManagement, LLC or NAMAS cannot be held liable for any advice, findings, or recommendations given that could have had a variable answer based on additional information.
Sean M. Weiss is a Partner and serves as VP/Chief Compliance Officer for DoctorsManagement, LLC based in Knoxville, TN. DoctorsManagement, LLC services more than 20,000 clients nation-wide and has been in existence since 1956. Weiss serves as an Investigator and expert witness in Federal and State cases as well as an expert or lead in Administrative Law Judge Hearings. During his 25-year career, Weiss has engaged in more than 200 cases working with law firms and health systems across the country. Weiss serves as a third-party compliance and regulatory officer for more than a dozen health care organizations across the country of varying sizes. For more information on Sean M. Weiss or DoctorsManagement, LLC visit us online at www.doctorsmanagement.com or contact us directly at 800.635.4040. You can also follow Sean on his biweekly Blog on LinkedIn (Sean M. Weiss "The Compliance Guy") or at www.thecomplianceguyblog.com
What to do next…
If you need help with an audit appeal or regulatory compliance concern, contact us at (800) 635-4040 or via email at

[email protected]

.
Read more about our: Total Compliance Solution
Why do thousands of providers trust DoctorsManagement to help improve their compliance programs and the health of their business?
Experienced compliance professionals. Our compliance services are structured by a chief compliance officer and supported by a team that includes physicians, attorneys and a team of experienced auditors. The team has many decades of combined experience helping protect the interests of physicians and the organizations they serve.
Quality of coders and auditors. Our US-based auditors receive ongoing training and support from our education division, NAMAS (National Alliance of Medical Auditing Specialists). All team members possess over 15 years of experience and hold both the Certified Professional Coder (CPC®) as well as the Certified Professional Medical Auditor (CPMA®) credentials.
Proprietary risk-assessment technology – our auditing team uses ComplianceRiskAnalyzer(CRA)®, a sophisticated analytics solution that assesses critical risk areas. It enables our auditors to precisely select encounters that pose the greatest risk of triggering an audit so that they can be reviewed and the risk can be mitigated.
Synergy – DoctorsManagement is a full-service healthcare consultancy firm. The many departments within our firm work together to help clients rise above the complexities faced by today's healthcare professionals. As a result, you receive quality solutions from a team of individuals who are current on every aspect of the business of medicine.