Medical Practice Assessment
A practice assessment is DoctorsManagement's way of taking a "snap-shot" of your financial and practice standing and assists us in identifying ways to improve productivity, reduce patient wait times, increase patient satisfaction, and more. Areas of expertise include but not limited to:
FINANCE & OPERATIONS
GROWTH & MARKETING
Business Structure
Financials & Relative Performance
HR Management & Staffing Considerations
OSHA, HIPAA, & Regulatory Compliance
Coding & Documentation Review
Scheduling & Patient Flow
Operational Best Practices
Non-Physician Providers / Extenders
Ancillary Service Opportunities
Marketing Your Practice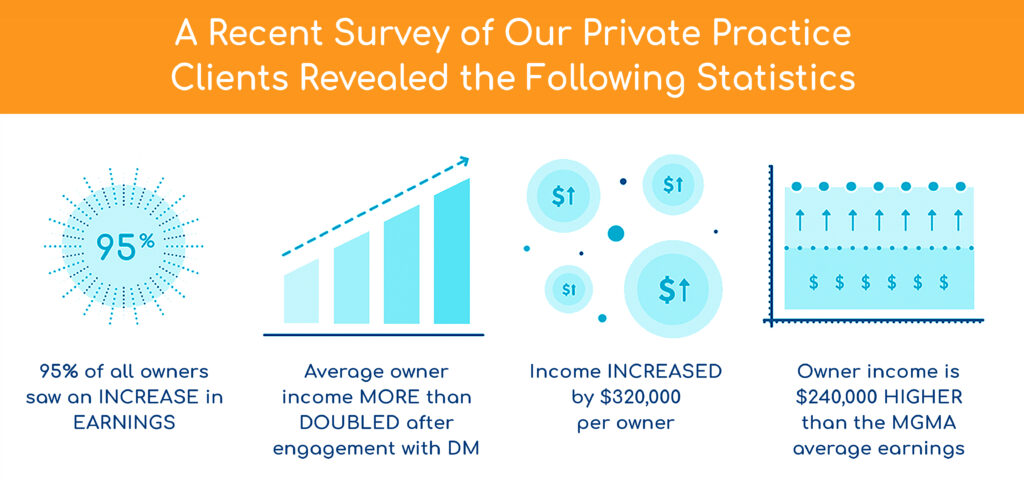 Some Physicians Are Earning Half Their Potential
A Medical Practice Assessment Examines Practices to Define Opportunities and Ideal Path to Growth
Whether your practice is in great shape or experiencing significant financial or operational pain, an assessment performed by an experienced medical practice consultant can help.
While physicians are working long hours and experiencing high levels of stress, most medical practices we see are performing significantly below their potential. Some physicians are earning half their potential income. Do you find yourself overwhelmed keeping up with reimbursement requirements, compliance updates, and staff challenges–all while delivering quality care to patients?
How to Get Started | Schedule a Practice Assessment
As part of the Practice Assessment, we will:
Review financial and operational data from your practice
Compare revenue, overhead, reimbursement, and productivity to others in your specialty
Provide a specialist to examine OSHA, HIPAA, and Regulatory Compliance
Provide a compliance expert to review your coding and documentation
Analyze and assess your management and organizational chart and give feedback on HR and staffing considerations
Provide insight on scheduling and patient flow, operational best practices, non-physician providers & extenders, ancillary service opportunities, and marketing for your practice
Spend scheduled days onsite at your practice meeting and interviewing your staff, and reviewing the medical facilities to give us a view into the overall culture
The Practice Assessment ends with a customized presentation and strategic planning session for provider owner(s). 
We commit to working with you and your team on the implementation of our findings, correction of deficiencies, and setting practice operations and financial goals. The initial plan is the starting point for constantly going through a "Plan, Do, Check, Act" cycle (PDCA). 
Positive financial impact of performing the practice assessment results in an increase of revenue of 3 to 5 times of the assessment fee.
A medical practice assessment can help you gain:
A clear "snap-shot" of your financial standing
Insight on how to increase productivity and reduce the feeling of "physician burnout"
New ideas to turn frustrated employees into staff who are excited about coming to work every day
Patient flow techniques that can decrease patient wait times and increase patient satisfaction
A better understanding of how and when you can retire
Ways to enjoy time away without being stressed about what's going on back at the office
Dealing with Changes or Challenges?
Physicians also turn to DoctorsManagement when they:
Are having difficulty pinpointing revenue leaks
Have high accounts receivable
Want to add ancillary services or non-physician providers
Have received an OIG or commercial payer demand letter
Need help with OSHA, HIPAA, or CLIA laboratory compliance
Want to evaluate the quality of their billing and coding practices
Have lost a practice manager and need help finding a qualified replacement
Are purchasing a practice, bringing on a new partner, or transitioning a retiring partner
Regardless of the reason, clients who follow recommendations from their medical practice assessment are experiencing astounding results.
Private Practice Physicians Have Doubled Their Income
Prior to the challenging times that practices are facing today, DoctorsManagement clients that followed the recommendations of a practice assessment* experienced astounding results. Through the guidance of their consultant, these practices are able to even weather the pandemic storm.
95% of all owners saw an increase in earnings
Income per owner increased by $320,000
Owner income is 66% higher than MGMA averages for their specialty
Reduced patient wait times and increased patient satisfaction ratings
It starts with a practice assessment performed by a medical practice consultant who examines every aspect of your practice and presents you with specific recommendations for improvements. Our team also makes it easy to connect by using the latest technology to facilitate remote teleconference consultations and meetings.
* Client performance numbers are averages and represent clients that have worked with a DM practice consultant for three or more years after their initial medical practice assessment.
Talk with one of our startup experts today to learn how our team can help reduce the stress of managing your medical practice while maintaining complete control and ownership of your business.
"I have been extremely pleased with the results and expected annual revenues to increase by many thousands of dollars because of this one very minimal investment."
Steve R. Shelton, M.D.