Whether you are fresh out of medical school residency, starting up a new medical practice, collaborating on a new group medical practice, or transitioning from an employed physician in a large health system to your own private practice, DoctorsManagement has experts to guide you along the way through the complicated stages of medical practice launch and operations.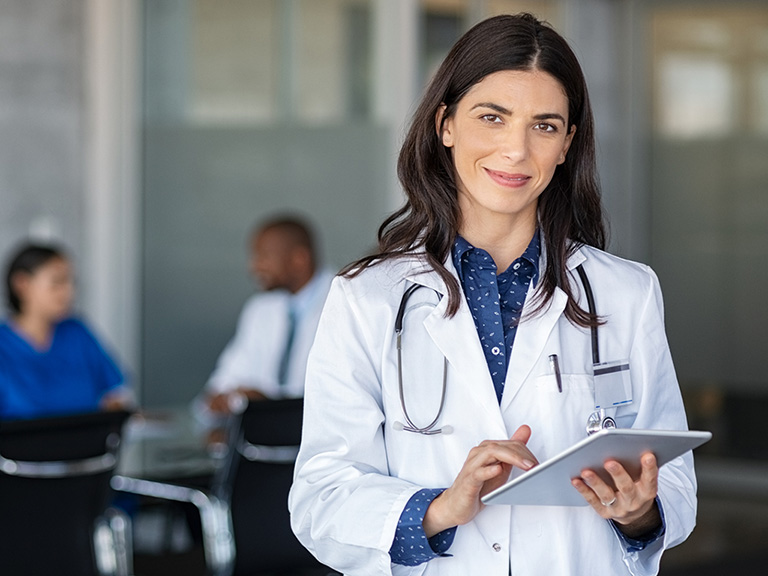 Solutions and Services
Market Analysis
Prepare Feasibility Analysis and Business Plan Summary
Assess Risks and Competition
Estimate Startup Costs and Prepare Financial Projections
Secure Financing and Lines of Credit from Lenders 
Establish Tax ID and Professional Corporation
Select Office Space and Contractor
Credential and Contract with Government Payers and Commercial Insurance Companies
Establish Best Practices for Day-to-Day Operations
Human Resources

Recruit Staff & Check References
Onboard and Train Staff
Prepare Employee Handbook, Policies & Procedures

Ensure OSHA and HIPAA Healthcare Compliance
Establish Practice Fee Schedule
Certify Laboratory and Prepare CLIA Manuals
Develop Healthcare Marketing Plan 
Assist with Ongoing Medical Practice Management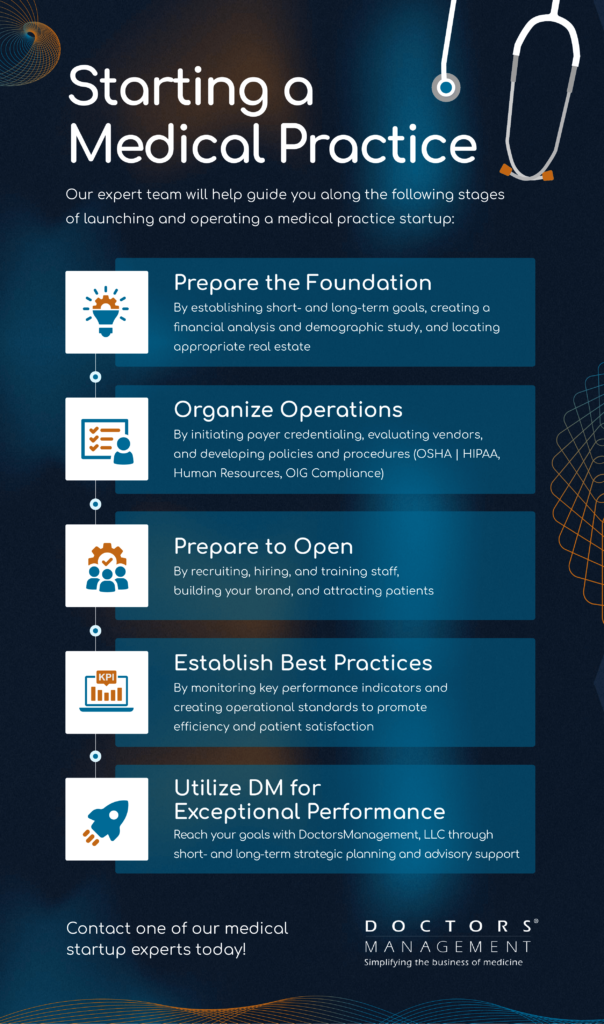 | PRACTICE STARTUP CLIENT TESTIMONIAL |

We are a two female doctor internal medicine team who joined a large group in our area when our senior partner retired. We were part of that group for several years and felt like everyone was telling us you can't make it in private practice. Being there robbed us of the joy of being a doctor.  When we connected with DoctorsManagement and learned that they felt like private practice was an option, we decided to take the leap of faith because we were very discontent.  

While the first year to eighteen months had some challenging moments, it is disappointing that most physicians believe and say private practice is not viable.  When you focus on developing your employee team and have DoctorsManagement available to assist with internal gaps it is not only possible but really likely that you will be successful.  If we can do it, so can you.  We are much happier, much more profitable and able to take care of our patients the way we like to.  Our only regret is not going out on our own sooner.  

We are thankful to have DoctorsManagement as our ongoing consulting partner.  Their team is always responsive to our needs and helps us look at our practice under the lens of how we make it a great business and a great business takes care of its customers, employees and owners.  I am much more fulfilled being a doctor and a business owner compared to being a doctor and an employee.   I am concerned others may be missing out because of the naysayers that hindered me.  

-Internal Medicine/Southeast
Full Medical Office Operations Support
DoctorsManagement will work with you to develop and implement a full medical business strategy and provide guidance of your new practice operations to create a growing and thriving healthcare practice.
Our goal is to create best practices for your day-to-day medical practice operations. After the completion of a comprehensive Practice Assessment, your DoctorsManagement Consultant will oversee the development and implementation of your medical practice operations with routine calls and monthly onsite visits to review:
The current status of your practice
Cash flow and the financial strength of your practice
Established benchmarks
How to increase the profitability of your practice
(We will also be available for any questions as needed!)
Additionally, we will assist in coordinating and selecting: 
EMR (Electronic Medical Records) System
Practice Management System
Medical Billing Services
Bookkeeping and Monthly Accounting
Payroll Administrator
Merchant Services
Office and Medical Supplies & Equipment
Reduce Stress and Achieve Early Profits for Your Medical Practice Startup
Your Startup Strategy Will Impact Profits for Years to Come
Knowing and overseeing the thousands of details required for a successful medical practice startup is not the only key to success. The key is to achieve the tasks in the proper sequence and to know which tasks are prerequisites for others. This helps keep your startup workflow on schedule, avoids costly delays, and prevents you from postponing important decisions that impact profits.
The Real Cost of a DIY Practice Startup
It is very easy to become tempted by the idea of saving a few dollars with a "do-it-yourself" practice startup. It can be done, however, this often costs physicians tens of thousands of dollars in missed revenue over the first few years of their practice. For example:
If you do not get credentialed with the right carriers, it can cause you to miss two additional new patients per day for the first three months, which translates to $300 per day, or up to $6,000 per month of missed revenue.
With the right marketing plan, you might bring in three more patients per day for the first two or three years. Without it, you could cost yourself tens or even hundreds of thousands of dollars.
These examples are the price of relying on a standard practice startup checklist. Even the most comprehensive list can't convey the timing and order in which certain tasks must occur, nor can it convey the value that comes with the experience of having set up medical practices for physicians in just about every healthcare specialty.
A Proven System for Success
Our team has refined the process to help ensure a successful practice startup. We can help you in any stage of your startup, including:
Conduct a feasibility study
Identify practice and financial objectives
Determine parameters for facility size and location
Evaluate and establish your site location
Identify practice and financial objectives
Assistance with securing financing
Obtain credentialing and contracting
Discuss areas such as Malpractice Insurance & Liability Insurance Coverage and Medicare & Medicaid Reimbursements
Establish operations, compliance, and Human Resources procedures
Assistance with your marketing plan and patient loyalty development
Practice Management and business plan overview
From Feasibility to Profitability
You can choose the level of service that provides what you need wherever you are in the process. Our medical practice startup professionals know what needs to be done and how to do it effectively and efficiently. We can even work with you after the initial medical practice startup to help keep you moving into higher levels of professional success. We have helped thousands of physicians in nearly every state across the country and look forward to serving you.
Talk With One of Our Startup Experts Today
Learn how our team can help eliminate the headaches of opening a private practice so that you can enjoy the personal and professional satisfaction that comes with this exciting stage of your career.
I want to leave hospital or group practice – Is Private Practice Viable?
The answer is an overwhelming yes!  A private practice still works and it will work tomorrow! We have the privilege of working together with more than 40,000 healthcare practitioners nationally, including over 700 private medical practices. Many of these physicians are experiencing tremendous success in private practice! Despite this truth, there seems to be a growing narrative that doctors can't succeed in their own medical practice.
Even if private practice isn't your thing, you should still pay attention. In negotiations, it's well-known that you can only reach the point of your next best alternative, so sharing how successful you could be in private practice will serve you well.
More importantly, many of the tools we introduce are transferable to any small business owner structure (hospital, healthcare system, supergroup, etc.). If appropriately implemented, our tools and solutions are designed to enable you, as a healthcare provider, to focus on patient care, enabling you to achieve mastery, increasing your autonomy, and making your career more fulfilling.
Speak with a DoctorsManagement representative today to learn more.
Is Medical Practice Acquisition Risky?
Physicians considering the acquisition of a medical practice should not assume it will be "low risk," as many young doctors incorrectly believe. Nothing could be further from the truth.
There are many additional concerns that you may not consider, such as the current EHR (electronic health record) system, the credentialing process, health insurance, medical equipment age, payers, real estate, staffing, and more. We recommend speaking with an expert and completing a thorough analysis to ensure you and your practice partners comprehend the full undertaking. Taking this lightly can lead to feeling trapped with costly, messy surprises.
Things to look out for following purchase are:
A large volume of patient loss. The industry average claims a practice will lose 10-20 percent
Unplanned repair costs of older equipment
Staff turnover is expected
High cost of facility improvements
Issues with rental properties or leases
Any of these can be devastating financially and emotionally as well. With DoctorsManagement, you will be prepared for practice acquisition and we will assist in helping you avoid these surprises.
Medical Practice Startup Services Include:
PRACTICE PLANNING & SETUP
Perform a Feasibility Study
Assist with Strategic Plan development
Establish and track Strategic Plan milestones
Develop best practices for your office manager
Manage the office manager
Create and post job advertisements
Perform background checks
Write job descriptions for employees
Access to our PowerBuying – we connect you to low-cost suppliers
ACCOUNTING
Define the New Business Structure
Expense classification
Reconcile bank account statements & credit card payments
Monthly management report
COMPLIANCE
OSHA & HIPAA Compliance Manuals
Custom Human Resource Employee Manuals
Human Resource Reference Manual
Laboratory Compliance, if applicable
OIG Compliance Manual
Staff Compliance Training