June 26, 2020
The Telehealth Conundrum – MAC vs National CMS Guidance
Holly Cassano, CPC, CRCC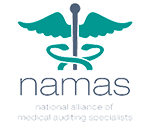 This auditing and compliance "Tip of the Week" was originally published by the National Alliance for Medical Auditing Specialists (NAMAS), a division of DoctorsManagement.
As we move through the COVID-19 pandemic, many of us in health care are finding that many opinions and much guidance exists on the topic of telehealth/telemedicine, from many various sources. At the beginning of the COVID-19 public health emergency, the rules literally seemed to change not even day by day, but hour by hour. This resulted in confusion for many in the industry, even seasoned coding and auditing professionals, not to mention the provider community.
Most folks use the word "telehealth" as the umbrella term for most modes of delivery for these types of services. For the purpose of this article, I will be using "telehealth" as it encompasses multiple modes of delivery, including the following:
mHealth

which, for example, is a way to deliver health information to patients.

Remote patient monitoring

, which is the way to record biological measures at home and deliver them to a physician who might make an intervention based on them.

Telemedicine

, which is usually reserved as reference to

synchronous

(ONC defines synchronous telemedicine as "live video-conferencing," which is a "two-way audiovisual link between a patient and a care provider") and

asynchronous

(ONC defines asynchronous telemedicine as "store-and-forward video-conferencing," which is the "transmission of a recorded health history to a health practitioner, usually a specialist"), direct care delivery, between a provider and their patient.https://blog.cureatr.com/two-forms-telemedicine-synchronous-vs-asynchronousPrior to the pandemic, telehealth was not quite as mainstream as it has been for the past several months. However, a study by the American College of Physicians (ACP) showed it was on the rise with many of their members, which helped pave the way for CMS' relaxing of guidelines during the pandemic. The survey stated that "e-consults and asynchronous evaluation (of data submitted through a patient portal or other secure system), are the most widely used services, with one out of four ACP members using each of these at least weekly. Video visits are used at least weekly by 14% of members."The ACP describes its methodology and results as follows:
"The American College of Physicians (ACP), conducted a recent survey, which reflects an increase in telehealth usage among internists and subspecialists. The random survey included over 1900 of its members in the sampling, who were U.S. based, with ages varying from the young adults, up to age 65. The survey took place between December 2019 and January 2020 and produced the following results from 231 members:

Completed responses were received from 231 members (11.7% response rate), Providing patient care
49% General Internal Medicine,
24% Hospital Medicine,
26% Sub-Specialists"

You can find the full results at https://www.acponline.org/acp-newsroom/american-college-of-physicians-survey-shows-increased-telehealth-usage-among-internists-and.

This is great information, as it shows telehealth was already surging before the pandemic, and utilization will continue after it ends. However, the majority of my clients and many of my colleagues had never worked with telehealth services prior to the pandemic. With the onset of the COVID-19 public health emergency, they quickly found themselves thrown into telehealth in order to keep their doors open.

I had to ramp up my knowledge as well, in order to assist them, so that they could maintain their patient volume (to some degree) and continuity of care. I reviewed CMS guidance documents and found a variety of information on synchronous telehealth, but many practices and their patients did not have the ability to utilize live video during a telehealth encounter. So began my research began for information utilizing "audio only" telehealth. What I found was that the reimbursement for those CPT codes, called "telephone evaluation and management services," (99441-99443), was pathetically low ($14-$41) and would not keep many practices open.

I decided to reach out to my Medicare Administrative Contractor (MAC), First Coast Service Options (FCSO), the oldest MAC in existence (50 years), to see what they advised, as CMS did not seem to offer any other guidance. I have worked with FCSO on and off for the better part of 25 years, between Connecticut and Florida, respectively and I was a part of their original Provider Outreach Program in Meridan, Connecticut. I have called FCSO Florida, several times over the past few months, since the pandemic and they advised me on recorded calls that providers could indeed continue to use regular office visit E&M codes, (99211-99205) for audio-only telehealth. They advised utilizing the current Place of Service (POS) for their respective specialty (e.g. POS 11, 20, etc.) and appending Modifier 95 (Synchronous Telemedicine Service Rendered via Real-Time Interactive Audio and Video Telecommunications System). I have also checked with a few other MACs and they have relaxed guidance on this as well.

I do call and check back monthly with FCSO, to ensure that this is what they still allow for Audio only Telehealth, to ensure Compliance. I also checked back, after National CMS increased the reimbursement for CPT codes 99441-99443, to $46-$110, on April 30, 2020 and they said we could continue to use 99211-99205 for Audio only Telehealth.

Now, there are folks out there who may disagree, but a local MAC does not have to follow Medicare's national guidance and can deviate to some degree if they choose. In fact, the AMA updated their coding guidance PDF for COVID 19 on May 4 and added the following to their guidance under "Scenario 9: (COVID-19 or Non-COVID-19 case): Telehealth/Telephone visit: "2. Individual states (through Executive Order) or payors may permit use of E/M codes with audio-only encounters." Which can be found on page 12, if you click this link: https://www.ama-assn.org/system/files/2020-03/covid-19-coding-advice.pdf
Additionally, under the CARES Act, Executive Order, updated May 15, on page 25, there are some detailed question and answer (Q&A) lists on telehealth.
K. Medicare Telehealth (Please note that these FAQs do not include flexibilities that might be exercised under the CARES Act)
https://www.cms.gov/files/document/03092020-covid-19-faqs-508.pdf
https://www.cms.gov/Medicare/Medicare-General-Information/Telehealth/Telehealth-Codes
One other resource that I also find helpful for guidance on federal payer telehealth policies is website of The Center for Connected Health Policy (CCHPCA). If you click on the following link, you ill find a downloadable PDF that is nicely put together describing state-by-state telehealth policies.
https://www.cchpca.org/resources/covid-19-telehealth-coverage-policies
For the commercial payer side of things, you can go to America's Health Insurance Plans (AHIP), which lists payer-specific telehealth policies:
https://www.ahip.org/health-insurance-providers-respond-to-coronavirus-covid-19/
In conclusion, I would advise coders and auditors to always check with their local MAC first to see what their specific guidance is, then work on implementing a policy for compliance for your providers to follow. Try to get things in writing and document every payer call and obtain a call reference number, in case you need to appeal a claim for a specific payer. Oftentimes, you can ask payers to email what they advise so you'll have it in writing.
Stay safe and remember, we are all in this together!
This Week's Audit Tip Written By:
Holly Cassano, CPC, CRCC
Holly is the owner of Forensic Healthcare Partners and partnering with ZENMED SolutionsWhat to do next…
Contact us to discuss your audit needs by calling (800) 635-4040 or email

[email protected]

.
Here's why thousands of providers trust DoctorsManagement to help improve their coding and documentation.
Quality of coders and auditors. Our US-based auditors receive ongoing training and support from our education division, NAMAS (National Alliance of Medical Auditing Specialists). All team members possess over 15 years of experience and hold both the Certified Professional Coder (CPC®) as well as the Certified Professional Medical Auditor (CPMA®) credential.
Proprietary risk-assessment technology – our auditing team uses ComplianceRiskAnalyzer(CRA)®, a sophisticated analytics solution that assesses critical risk areas. It enables our auditors to precisely select encounters that pose the greatest risk of triggering an audit so that they can be reviewed and the risk can be mitigated.
Synergy – DoctorsManagement is a full-service healthcare consultancy firm. The many departments within our firm work together to help clients rise above the complexities faced by today's healthcare professionals. As a result, you receive quality solutions from a team of individuals who are current on every aspect of the business of medicine.