May 22, 2020
CMS: Bill 99211 for COVID-19 Specimen Collection
Pam Vanderbilt, CPC, CPMA, CPPM, CPC-I, CEMC, CEMA, CEMA-O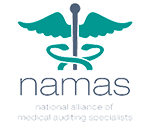 This auditing and compliance "Tip of the Week" was originally published by the National Alliance for Medical Auditing Specialists (NAMAS), a division of DoctorsManagement.
NAMAS, like other professional organizations, has a network of compliance professionals who are diligently culling through the multiple interim final rules and daily barrage of e-mails about temporary relaxation of guidance for reporting provider services. This information has become nightly bedtime reading for many in our corner of the healthcare industry. There is so much "novel" information being thrown at us that, in addition to the e-mails from CMS and other payers, our team is e-mailing each other making sure we have seen, and are correctly interpreting, the everchanging guidance before sharing it with our clients. I received one such "interim final rule" (IFR) e-mail the other day with the question "Did you see this???"
Most of the focus has been on the rapid-fire relaxation of telemedicine billing rules, which make up a large part of the various IFRs. However, we should pay attention to other tasty little nuggets unrelated to telehealth. The e-mail I received identified one such nugget, which will be very beneficial to our providers, hidden away (far, far away from the telehealth information) toward the very end of the CMS IFR released on May 8.
The nugget is contained in the excerpt below:
"For the duration of the COVID-19 PHE, we are therefore finalizing on an interim basis that when the services described by CPT code 99211 for a level 1 E/M visit are furnished for the purpose of a COVID-19 assessment and specimen collection, the code can be billed for both new and established patients. We believe this policy will support expanded access to COVID-19 testing and provide appropriate payment for COVID-19 testing-related services furnished by physician and other practitioners."
Here is what that means to us.
Under normal circumstances, test collection that is provided as part of an E/M service is typically considered inherent to the E/M service. However, these times are anything but normal. In the IFR released on May 8, CMS recognizes that COVID-19 test collection may be provided without a face-to-face interaction between a provider and a patient without regard to whether the patient is new or established. As a result, they have stated that E/M code 99211 may be reported for "services provided by clinical staff to assess symptoms and collect specimens for COVID-19 laboratory tests for all patients, not just established patients." This is a big change because the code description is specific to established patients.
It is important to keep in mind that this relaxation of the established patient requirement does not change the fact that services provided by ancillary staff must meet the incident-to requirements. The million-dollar question is, how are incident-to requirements met if there is no provider on site? We have guidance in the form of the CMS IFR from April 6, which allows the direct supervision requirement to be met by the "virtual"presence of the supervising provider using interactive audio/video technology.
What do we need to see documented to support reporting 99211 for COVID-19 specimen collection?
The guidance specifically states, "assess symptoms and collect specimens," so we would expect to see documentation of the patient's symptoms and the collection of the sample.
There is also good news in that the effective date of service for this change is retroactive to March 1, 2020.
If ancillary staff and providers were previously documenting to support assessment of symptoms and specimen collection, your organization can look all the way back to March 1 to capture services that otherwise would not have been payable. If for some reason the services were not previously being documented (remember the saying, "If it wasn't documented, it wasn't done?") prior to this guidance, we have to get the word out quickly about documenting the work moving forward to ensure proper payment. In so doing, don't forget to remind providers to include documentation of audio/video "virtual" supervision if it applies.
Why is this so important?
At the national level for a non-facility visit, CPT code 99211 reimburses $23.46. This could represent hundreds (if not thousands) of dollars in missed revenue if not documented and reported. Let's do our part to make sure this revenue is not being left on the table.
Stay tuned to the NAMAS COVID-19 Resource Page as we continue to enjoy our new bedtime reading in an effort to keep you up to date on rapidly changing documentation and coding guidance. Until then, remember to tell your frontline providers how much they are appreciated.
This Week's Audit Tip Written By:
Pam Vanderbilt, CPC, CPMA, CPPM, CPC-I, CEMC, CEMA, CEMA-O
Pam is a Senior Compliance Consultant with our parent company, DoctorsManagementWhat to do next…
Contact us to discuss your audit needs by calling (800) 635-4040 or email

[email protected]

.
Here's why thousands of providers trust DoctorsManagement to help improve their coding and documentation.
Quality of coders and auditors. Our US-based auditors receive ongoing training and support from our education division, NAMAS (National Alliance of Medical Auditing Specialists). All team members possess over 15 years of experience and hold both the Certified Professional Coder (CPC®) as well as the Certified Professional Medical Auditor (CPMA®) credential.
Proprietary risk-assessment technology – our auditing team uses ComplianceRiskAnalyzer(CRA)®, a sophisticated analytics solution that assesses critical risk areas. It enables our auditors to precisely select encounters that pose the greatest risk of triggering an audit so that they can be reviewed and the risk can be mitigated.
Synergy – DoctorsManagement is a full-service healthcare consultancy firm. The many departments within our firm work together to help clients rise above the complexities faced by today's healthcare professionals. As a result, you receive quality solutions from a team of individuals who are current on every aspect of the business of medicine.