March 6, 2020
Risk Adjustment Opportunities in the World of Simplified Documentation
J. Paul Spencer, COC, CPC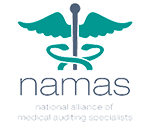 This auditing and compliance "Tip of the Week" was originally published by the National Alliance for Medical Auditing Specialists (NAMAS), a division of DoctorsManagement.
Something of a preemptive celebration is currently going on in the world of physician documentation.
As we know, beginning in January 2021, CMS will modify documentation guidelines for evaluation & management services to put more of an emphasis on medical decision making, rather than the somewhat rigid standards currently set by the 1995 and 1997 E/M guidelines.
As we get closer to January 1, 2021, a lot of ink will be spilled in describing the best future practices for documentation, and this article will be no exception. I would like to share a recent conversation I had with the manager of a family practice to illustrate what is at stake in the modern landscape of E/M visits.
The manager in question has been migrating the practice he oversees to risk-based contracts with Medicare Advantage plans over a period of the last five years. Hand-in-hand with that approach, the medical director of the practice stopped seeing patients to devote his time to documentation improvement. Specifically, with the help of clinical staff and a coder now certified in Hierarchical Condition Categories (HCC), his task was to focus the practice on presenting a true picture of the acuity of the patient in the documentation, thus leading to more accurate reporting of conditions and risk for each patient of the practice. This method leads to better contracting outcomes with Medicare Advantage plans.
About two years ago, a Medicare HMO that used to exist in the practice's geographical area was having financial issues. They ended up being bought out by a major insurance carrier, who shall remain nameless for the purposes of anonymous illustration. A few months after the buyout, the new owners approached the practice and stated that they noticed that the current risk score for the covered insurance population is 2.4. They further stated that they wanted the practice to lower their risk score to somewhere in the neighborhood of 1.6. The practice countered that their current risk score was a true representation of the risk of their patient population, that the practice stands by its score, and that no changes were forthcoming.
As we have come to expect in the current audit-heavy payer landscape, the carrier response was typical in cases such as this: "We have extrapolated all of your claims and based on our suspicion of your risk score being too high, you owe us $7 million."
The practice submitted to a 100% audit of all services for their patient census under the plan for the years 2016 and 2017 inclusive. The process included oversight by the medical director of the carrier and was scheduled to last for a calendar year.
After three months of reviewing data, not only was the audit stopped, but the carrier determined that the practice's documentation and reporting was so accurate, that they were entitled to an additional $1.1 million in reimbursement above and beyond what the practice had already received for the same services.
Too many practices see risk adjustment as just another administrative burden, rather than the blatant opportunity it has always been. This story illustrates that the preparation for changes in documentation is not simply a matter of simplification. The opportunity for dollars lies directly in front of physician practices that invest the time in improvements to documentation. Practices can begin by honestly answering the following questions:
Is the Assessment and Plan truly an assessment and plan, or is it a reiteration of the active problem list?
Were the conditions listed in the assessment and plan meaningfully assessed during the visit?
Once documentation is completed, are ICD-10 diagnoses being combined and coded to the highest level of specificity and acuity?
Why don't we have an HCC coder? And finally:
Why didn't we start this process years ago, when risk adjustment was just getting started?
How a practice answers these questions will go a long way in determining long-term viability in the coming age of "simplified" documentation.
This Week's Audit Tip Written By:
J. Paul Spencer, COC, CPC
Paul is a Senior Compliance Consultant with our parent organization, DoctorsManagement.
What to do next…
Contact us to discuss your audit needs by calling (800) 635-4040 or email

[email protected]

.
Here's why thousands of providers trust DoctorsManagement to help improve their coding and documentation.
Quality of coders and auditors. Our US-based auditors receive ongoing training and support from our education division, NAMAS (National Alliance of Medical Auditing Specialists). All team members possess over 15 years of experience and hold both the Certified Professional Coder (CPC®) as well as the Certified Professional Medical Auditor (CPMA®) credential.
Proprietary risk-assessment technology – our auditing team uses ComplianceRiskAnalyzer(CRA)®, a sophisticated analytics solution that assesses critical risk areas. It enables our auditors to precisely select encounters that pose the greatest risk of triggering an audit so that they can be reviewed and the risk can be mitigated.
Synergy – DoctorsManagement is a full-service healthcare consultancy firm. The many departments within our firm work together to help clients rise above the complexities faced by today's healthcare professionals. As a result, you receive quality solutions from a team of individuals who are current on every aspect of the business of medicine.