September 8, 2020
Understanding MDM in 2021 – Part 1
By Brenda Edwards, CPC, CDEO, CPB, CPC-I, CEMC, CRC, CMRS, CMCS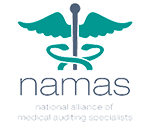 This auditing and compliance "Tip of the Week" was originally published by the National Alliance for Medical Auditing Specialists (NAMAS), a division of DoctorsManagement.
Is anybody not aware of the Evaluation and Management (E/M) changes coming in January 2021? Have you asked your administrator, managers, front office, back office, and providers if they are ready for these major changes? Anybody that touches CPT® 99202-99215 will need to be brought up to speed on the coding changes.
When we start to consider these changes, we cannot underestimate the importance of documentation. I have asked some of the Medicare Administrative Contractors (MACs) what they expect to see in documentation because history and exam will not be scored next year. However, a medically necessary history and exam will still need to be documented and information found within this portion of documentation can be used to support the medical decision making which will be counted – it needs to be clinically relevant. Their answers have been "simply document what happened." My interpretation of this is to tell the story, paint the picture, be graphic. Your story sets the stage for medical necessity.
In an upcoming series of webinars, NAMAS will dissect the three sections of Medical Decision Making (MDM):
Number and Complexity of Problems Addressed,
Amount and/or Complexity of Data to be Reviewed and Analyzed, and;
Risk of Complications and/or Morbidity or Mortality of Patient Management.
These three sections are designed to make the process less burdensome for the provider of service. When we look at the table, one of the first things to notice is that the new and established patient levels are scored the same. The other noteworthy item is that both new and established codes will need to meet two of the three categories of MDM. These are two welcome changes!
In this article, we are going to view the first section, Number and Complexity of Problems Addressed. The levels of MDM remain the same as our current guidelines, Straightforward, Low, Moderate, and High. Many of the same condition severities carry over from our current E/M Guidelines. Identify the problems addressed; these are evaluated or treated at the encounter and includes consideration of further testing or treatment. A notation that another provider is managing a problem without additional assessment/care coordination documented does not qualify as being addressed or managed.
Number and/or Complexity of Problems Addressed
Straightforward (self-limited)
9920299212
1 self-limited or minor problem
May not require the presence of QHP and/or runs a definite and prescribed course, transient in nature, and not likely to permanently alter health status.
Low(Stable, uncomplicated, single problem)
99203 99213
2 or more self-limited or minor problemsOR
1 stable chronic illness
OR
1 acute, uncomplicated illness or injury
In addition to the language above for self-limited/minor problems:· A chronic stable problem is one with an expected duration of at least a year/death of patient; a patient at treatment goal is stable.
· Acute, uncomplicated illness/injury is one that is a recent or new short-term problem with low risk of morbidity. There is little to no risk of mortality of treatment and full functional impairment is expected.
Moderate(Multiple problems or significantly ill)
99204 99214
1 or more chronic illnesses with exacerbation, progression, or side effects of treatmentOR
2 or more stable chronic illnesses
OR
1 undiagnosed new problem with uncertain prognosis
OR
1 acute illness with systemic symptoms
OR
1 acute complicated injury
Adding on to our above definition for stable chronic:· Chronic exacerbated is one that is acutely worsening, poorly controlled or progressing with an intent to control progression and requiring additional supportive care or requiring attention to treatment for side effects, but that does not require consideration of hospital level of care.
· Acute complicated illness with systemic symptoms has a high risk of morbidity without treatment.
· Acute complicated injury is one that requires treatment that includes evaluation of body systems that are not directly part of the injured organ, extensive injury, or treatment options are multiple and/or associated with risk or morbidity.
High(Very ill)
9920599215
1 or more chronic illnesses with severe exacerbation, progression, or side effects of treatmentOR
1 acute or chronic illness that poses threat to life or bodily function
· Chronic illness with severe exacerbation includes progression or severe side effects of treatment that have significant risk of morbidity and may require hospital level of care.· Acute/chronic that poses threat to life or bodily function soon without treatment.
Key considerations:
The final diagnosis does not solely determine the complexity or risk since.
Symptoms included in a specific diagnosis may not be considered in selecting the level of care unless they are addressed and the presence of them increases the overall complexity.
Multiple problems of a lower severity may create a higher risk to due interaction.
Multiple new or established problems may be addressed at the same time and lend to the overall medical decision making.
Comorbidities and underlying diseases may not be considered in selecting the level of care unless they are addressed, and their presence increases complexity.
CMS recently clarified their intention of moving forward with the changes under the planned timeline. Begin to familiarize yourself (and your fellow staff) now with the changes in the E/M guidelines. Review current documentation under the new guidelines and provider feedback to your providers and consider showing a comparison of current guidelines to the new guidelines. Be prepared for January 1, 2021 (the changes will be date-of-service driven); the New Year will be here before we know it!
This Week's Audit Tip Written By:
Brenda Edwards, CPC, CDEO, CPB, CPC-I, CEMC, CRC, CMRS, CMCS
What to do next…
Contact us to discuss your audit needs by calling (800) 635-4040 or email

[email protected]

.
Here's why thousands of providers trust DoctorsManagement to help improve their coding and documentation.
Quality of coders and auditors. Our US-based auditors receive ongoing training and support from our education division, NAMAS (National Alliance of Medical Auditing Specialists). All team members possess over 15 years of experience and hold both the Certified Professional Coder (CPC®) as well as the Certified Professional Medical Auditor (CPMA®) credential.
Proprietary risk-assessment technology – our auditing team uses ComplianceRiskAnalyzer(CRA)®, a sophisticated analytics solution that assesses critical risk areas. It enables our auditors to precisely select encounters that pose the greatest risk of triggering an audit so that they can be reviewed and the risk can be mitigated.
Synergy – DoctorsManagement is a full-service healthcare consultancy firm. The many departments within our firm work together to help clients rise above the complexities faced by today's healthcare professionals. As a result, you receive quality solutions from a team of individuals who are current on every aspect of the business of medicine.