"But All My Friends are Doing it."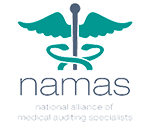 This auditing and compliance "Tip of the Week" was originally published by the National Alliance for Medical Auditing Specialists (NAMAS), a division of DoctorsManagement.
At some point in our younger lives, we all probably used some version of the above phrase. My mom always responded with "If your friends were robbing a bank, would you do it too?" I can't help but think of this when I hear providers and coders tell me things like "all cardiologists do an EKG at every visit" or "my colleague puts a modifier 59 on that code and gets paid" or "the sales rep told us to bill it this way." You get the picture.
Just because friends or colleagues are doing something doesn't mean it's the right thing to do. If we really think about the underlying reason for these behaviors, it always seems to come back to revenue. When providers are told they are putting themselves at risk of audit by reporting services based on unofficial guidance, the response is often "but I've never been audited." When I hear this, the thought that runs through my mind is, "you haven't been audited… that you know about."
Even if a practice hasn't received notification from a UPIC, or had people with badges show up in their office, it does not mean they aren't being audited. In fact, a brief discussion with billing office staff will often paint a completely different picture. The staff will say they are receiving correspondence on a daily basis from carriers requesting prepayment review of documentation, comparative billing reports, RAC or TPE requests, and others. Whether providers are aware of it or not, their billing patterns are always under scrutiny.
As auditors, part of our job is to educate providers that just because it can be done does not mean it should. The best way to do this is by presenting authoritative information to support your education.
There are a multitude of resources available to us including our code books, code editing software (i.e. AAPC Coder, Find-a-Code, Supercoder, etc.) and CMS information that can be found with a quick Google search. The CMS Internet-Only Manuals, NDC/LCDs, NCCI and MLN Matters newsletter often give us very specific guidance and examples in black and white that can be used to educate our providers about why it is not appropriate to do something just because everyone else is.
Although a provider can be at risk for many reasons including over utilization of a service or reporting incorrect codes, inappropriate use of modifiers is always risky business. For example, let's look at an orthopedic surgery that was reported with the following codes and modifiers:
29827-LT – Arthroscopy, shoulder, surgical; with rotator cuff repair, left
29822-59, LT – Arthroscopy, shoulder, surgical; debridement, limited, distinct procedural service, left.
When we check the NCCI edits for these codes, we find that they are bundled. However, a modifier can be reported to override the edits.
Next, we must determine if the services support the use of an unbundling modifier. If we go to CMS NCCI online, we can find the appropriate NCCI Policy Manual for the time period related to the date of service. For this example, we will use Chapter 4, CPT codes 20000-29999. In Section E, Subsection 4, NCCI addresses arthroscopic procedures of the shoulder and states:
"CMS considers the shoulder to be a single anatomic structure. With three exceptions an NCCI procedure-to-procedure edit code pair consisting of two codes describing two shoulder arthroscopy procedures shall not be bypassed with an NCCI-associated modifier when the two procedures are performed on the ipsilateral shoulder. This type of edit may be bypassed with an NCCI-associated modifier only if the two procedures are performed on contralateral shoulders. The three exceptions are described in Chapter IV, Section E (Arthroscopy), Subsection #7."
 We then find that Subsection 7 specifically addresses reporting shoulder debridement with another procedure. It states:
"Shoulder arthroscopy procedures include limited debridement (e.g., CPT code 29822) even if the limited debridement is performed in a different area of the same shoulder than the other procedure…"
 Using this information, we see limited debridement is only supported during the same session as another arthroscopic shoulder procedure when it is performed on the contralateral shoulder. If our example indicated the rotator cuff repair was on the left and the debridement was on the right, a modifier would be supported. Based on the CPT description of modifier 59, we would not use modifier 59 because there are appropriate anatomical modifiers (RT, LT) to report the contralateral sides.
Since our example states the procedures were only performed on the left shoulder, based on the guidance, it is not appropriate to unbundle the limited debridement with a modifier.
We now have the authoritative guidance from CPT and NCCI to share with our provider supporting the reason it is inappropriate to report modifier 59 in this scenario.
I know I didn't like it when my mom gave me her response, and it is possible your providers won't like to hear they shouldn't be doing something their colleagues are. But that is OK. In hindsight, I realize the potential consequences of doing what my friends were doing could have been far worse than any fleeting reward had mom not said "no."
This Week's Audit Tip Written By:
Pam Vanderbilt, CPC, CPMA, CPC-I, CPPM, CEMC, CEMA, CEMA-O
Pam is a Senior Compliance Consultant with our parent organization, DoctorsManagement, LLC. Pam is also an instructor for NAMAS
Resource:
https://www.cms.gov/Medicare/CodingInitEd/index.html?redirect=/nationalcorrectcodinited
What to do next…
Contact us to discuss your audit needs by calling (800) 635-4040 or email

[email protected]

.
Here's why thousands of providers trust DoctorsManagement to help improve their coding and documentation.
Quality of coders and auditors. Our US-based auditors receive ongoing training and support from our education division, NAMAS (National Alliance of Medical Auditing Specialists). All team members possess over 15 years of experience and hold both the Certified Professional Coder (CPC®) as well as the Certified Professional Medical Auditor (CPMA®) credential.
Proprietary risk-assessment technology – our auditing team uses ComplianceRiskAnalyzer(CRA)®, a sophisticated analytics solution that assesses critical risk areas. It enables our auditors to precisely select encounters that pose the greatest risk of triggering an audit so that they can be reviewed and the risk can be mitigated.
Synergy – DoctorsManagement is a full-service healthcare consultancy firm. The many departments within our firm work together to help clients rise above the complexities faced by today's healthcare professionals. As a result, you receive quality solutions from a team of individuals who are current on every aspect of the business of medicine.