July 2, 2019
Auditing Standards or The Lack of…
"Making a Case for Standardizing Auditing Guidelines"
Change, no matter how positive it is will always be met with resistance. But what if the changes aren't really changes but actual adoption of standards for the very first time in an industry void of standardization? There is no doubt we work in one of the most regulated and complex industries and at times it leads to a misinterpretation of Acts, Guidelines, Laws, Regulations and Statutes. And, because of the complexities we deal with, it also leads to folks taking shortcuts that in the long-run lead to critical problems. However, there is an area that is so critical to the prosecution and/or defense of individuals you would think it was compiled of the most ridged guidelines and standards. This one area is so critical that at its core it determines whether or not a practice/organization keeps its money or must refund it. I am talking about Auditing of provider documentation. While auditing in the financial sector or in other areas may have standards created by professional societies or boards within those professions, in medical documentation auditing there are no real standards contrary to what some believe. I am sure there will be a lot of opinions on what I discuss in this Blog Post but the reality is this, "CMS requires adherence to the documentation requirements outlined in Medicare regulation, statute, and policy, rather than allowing for clinical review judgment based on billing history and other available information." Beyond that, the majority of auditors are either non-clinicians or their expertise is limited based on their clinical area of study, thus creating easy to argue positions when you have a qualified, competent physician/clinician of that particular specialty lay out their clinical rationale. CMS has reiterated that the primary causes of errors in the Medicare FFS program are insufficient documentation and medically unnecessary services, which should send a clear message to all practices regardless of specialty that significant emphasis in what is documented and how it is arranged in the note is paramount to successful audit results.
We do have guidelines but again, they're recommendations unless they have gone through a formal rule process or were promulgated into law. The reality is the majority of guidelines, when you can actually find them, are vague and subjective to interpretation and compete in certain aspects against each other (95 vs 97). This leads to a variety of interpretations leading to inconsistencies from auditor to auditor in some cases thus, they cannot be standards. Don't believe me? Over the years, The National Alliance of Medical Auditing Specialists (NAMAS – NAMAS.co), under the watchful eye of Mr. Frank Cohen (Data Scientists and Statistician), has performed Inter Rater Reliability and Validity Studies (the extent to which different observers are consistent in their judgments). The findings from these studies demonstrate the significant variances between documentation reviewers looking at the same charts. The average test score is 81%, which means there is an average of a 19% error rate. Think about this way – would you want a physician to operate on you if he/she told you they have an average of 19% in errors for surgeries they perform? Additionally, NAMAS offers the Certified in Evaluation & Management Services Auditor (CEMA) Certification which functions in almost the same manner as the Inter Rater Reliability Studies with a comparable error rate for the tester. Mr. Cohen from these studies also states, "From auditor to auditor 46% of the time there is a disagreement on the level of service by 1-level." Mr. Cohen also states that there are more than 1500 decisions that go into the selection of a level of service when you look at all the components of the History, Exam, Medical Decision-Making, etc. Again, this creates a significant margin for error. I have served in both state and federal cases as a Subject Matter Expert (SME) in auditing, billing, coding, compliance and regulatory matters dating back more than 2 decades and I am often fascinated with the interpretations of some "SME's" with regard to the above areas mentioned. Often, I find folks over-reach on an interpretation since definitive guidance is often void from the government and payors. But, in these cases, it comes down to who is more believable or credible in the eyes of a judge or jury, which can be quite nerve racking. This is why "Standards" must be created and be well defined for medical documentation audits to remove the threat of misinterpretation that could result in stripping an individual of their freedoms, livelihood, assets and worse, family. Sounds like I am on a soap-box you say? Maybe; but maybe you should stop right here and think about the last audit you went through with a payor and the difficulty you had with the auditor and or successfully arguing/appealing your case because there was a lack of standards or definitive guidelines available for you to make your case.
Rather than just relying on yours truly for this post, I reached out to an industry expert who is well regarded in auditing circles to get her take on what I consider to be a dire situation that is only getting more complicated and difficult. In speaking with the President of NAMAS (Shannon DeConda) about her organization's position on auditing, several things became very evident. First, auditing is what they live and breathe as they are not only educating those on the practice/hospital side but also those on the payor side conducting investigations/audits on behalf of the government and commercial payors. Ms. DeConda stated that the goal of the organization is to create standards that are viewed in the same light as CMS or even AMA Guidelines. Her hope is to have those standards developed by NAMAS be considered for formal rule-making and to promulgate into law. When pressed on how they develop standards, Ms. DeConda clearly indicated this is a collaborative effort with auditors from around the country and not just reliance on herself or staff to develop the standards. One area in which Ms. DeConda suggests practices wise up with regard to auditing is with regard to their own internal policies on various services they render to patients and bill to payors. "Policies are written with lots of grey areas by payors intentionally, so that when a dispute arises, they can interpret it to benefit themselves and often times you will even find the policies are written without any emphasis on the critical aspect(s) of a service. However, what they put out to the general public doesn't always mirror what exists within the walls of a payor." Ms. DeConda went on to talk about a recent discussion she had with an auditor from a large commercial payor in the Southeast who told her, "We score all services based on Medical Decision-Making and not Medical Necessity." Ms. DeConda stated she asked the person from the payor if this is something they make public and she was told no, that it is an internal memo. This is interesting because Medical Necessity is the overarching criteria used in addition to the individual elements of the CPT code. And since we are on the topic of Medical Necessity, think about this – often, auditors' claim they don't consider whether ancillary studies or the therapeutic interventions ordered during the course of encounter were medically necessary given the patient's chief complaint. Given most medical directors employed by government payers are frequently not trained or experienced in the practice of specialties such as emergency medicine, orthopedics, cardiology, neurosurgery, thoracic or vascular surgery, etc. they tend to agree with their auditor's rationale, which is infuriating. Remember, "Medical Necessity" is defined as: "Healthcare services that a prudent physician would provide to a patient for the purpose of preventing, diagnosing, treating or rehabilitating an illness, injury, disease or its associated symptoms, impairments or functional limitations in a manner that is:
a) In accordance with generally accepted standards or medical practice;
b) Clinically appropriate in terms of type, frequency, extent, site and duration; and
c) Not primarily for the convenience of the patient, physician, or other health care provider."
A lot of auditors like to quote Marshfield Guidelines but keep in mind these are not formal rules, although some do consider them to be, in a way, standards. Again, they are guidelines and as such do not always line up with those of CMS or the payors. While we are on the topic of Medical Decision-Making, here is a great example outlined by Ms. DeConda regarding the variance between payors. In the portion of Management Options under additional work-up planned, the majority of CMS MACs determine that to be what is done once the patient leaves the office (CT, MRI, PET, Labs at an outside facility). However, Palmetto, GBA considers additional work-up to include anything that is done at the time of the encounter in the providers' office. This creates difficulty for those billing to MACs in multiple regions as you can imagine. Just another reason why standardization in auditing is needed.
Adding to the already massive confusion, in 2021 CMS is moving forward with what they call "Administrative Simplification" of EM Services. Here are just a few changes taking effect January 1, 2021:
For E/M visits, providers will not be required to re-enter information about the patient's chief complaint and history that a staff member has already entered. Instead, the provider can indicate in the medical record that the information has been "reviewed and verified."
For established office visits, providers can focus their documentation on changes since the last visit and "need not re-record the defined list of required elements if there is evidence" that the provider has already done so.
For home visits, providers will no longer be required to prove explicit medical necessity when reporting the range of codes 99341-99350.
Practices will be able to opt for medical decision-making or time as the key documentation requirement when reporting E/M office codes. CMS plans to adopt a minimum documentation standard for the levels 2 through 4 codes.
The add-on codes that CMS had proposed also are set to return in 2021; however, they'll be limited to levels 2 through 4. And practices will be able to tap into an "extended visit" code to account for high-duration encounters that correspond to a level 2 through 4 visit.
Here are the proposed EM Payment Amounts from CMS' Fact Sheet: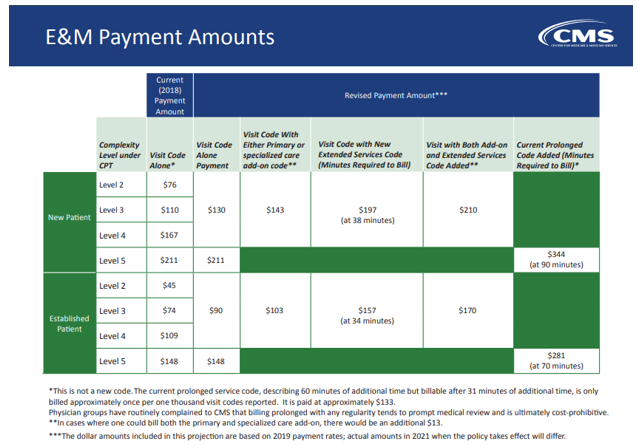 New Primary Care Complexity Code: Visit complexity inherent to evaluation and management associated with primary medical care services that serve as the continuing focal point for all needed health care services (Add-on code, list separately in addition to level 2 through 4 office/outpatient evaluation and management visit, new or established)
New Non-procedural Specialty Care Complexity Code: Visit complexity inherent to evaluation and management associated with non-procedural specialty care including endocrinology, rheumatology, hematology/oncology, urology, neurology, obstetrics/gynecology, allergy/immunology, otolaryngology, interventional pain management, cardiology, nephrology, infectious disease, psychiatry, and pulmonology. (Add-on code, list separately in addition to level 2 through 4 office/outpatient evaluation and management visit, new or established)
New Extended Visit Code: Extended time for evaluation and management service(s) in the office or other outpatient setting, when the visit requires direct patient contact of 34-69 total face-to-face minutes overall for an existing patient or 38-89 minutes for a new patient (List separately in addition to code for level 2 through 4 office or other outpatient Evaluation and Management service)
Existing Prolonged Services Code: Prolonged evaluation and management or psychotherapy service(s) (beyond the typical service time of the primary procedure) in the office or other outpatient setting requiring direct patient contact beyond the usual service; first hour (List separately in addition to code for office or other outpatient Evaluation and Management or psychotherapy service)
At the end of the day, I think we all want the same thing – a pathway to success for initial claim submission and on the back-end (appeals) when a claim is denied or during an audit when a recoupment is demanded based on our failure to demonstrate "Medical Necessity" or compliance with their "Guidelines"!
The Compliance Guy Blog will return next week. Hope everyone has a Happy and Safe Fourth of July Holiday!
What to do next…
If you need help with an audit appeal or regulatory compliance concern, contact us at (800) 635-4040 or via email at

[email protected]

.
Read more about our: Total Compliance Solution
Why do thousands of providers trust DoctorsManagement to help improve their compliance programs and the health of their business?
Experienced compliance professionals. Our compliance services are structured by a chief compliance officer and supported by a team that includes physicians, attorneys and a team of experienced auditors. The team has many decades of combined experience helping protect the interests of physicians and the organizations they serve.
Quality of coders and auditors. Our US-based auditors receive ongoing training and support from our education division, NAMAS (National Alliance of Medical Auditing Specialists). All team members possess over 15 years of experience and hold both the Certified Professional Coder (CPC®) as well as the Certified Professional Medical Auditor (CPMA®) credentials.
Proprietary risk-assessment technology – our auditing team uses ComplianceRiskAnalyzer(CRA)®, a sophisticated analytics solution that assesses critical risk areas. It enables our auditors to precisely select encounters that pose the greatest risk of triggering an audit so that they can be reviewed and the risk can be mitigated.
Synergy – DoctorsManagement is a full-service healthcare consultancy firm. The many departments within our firm work together to help clients rise above the complexities faced by today's healthcare professionals. As a result, you receive quality solutions from a team of individuals who are current on every aspect of the business of medicine.