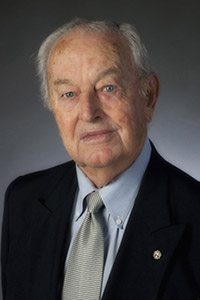 A salute to a "giant" in the field of medical practice management consulting.
Robert C. Fraim founded RCFA Physicians Managers (now DoctorsManagement) in 1956. Mr. Fraim helped set the standard in the field of medical management consulting.
Prior to forming his own consulting firm, Robert C. Fraim Associates, Inc., Mr. Fraim served as the business manager for the Knoxville Orthopedic Group. He was also an officer and member of the Board of Directors of medical corporations throughout the United States.
In 1987 he sold his firm to Paul L. King and continued to serve on Board of Directors of Doctors Management, LLC until his death. His professional affiliations included The Royal Society of Medicine, London (RSM), 1988 and Medical Group Management Association (MGMA), 1959. He was a life and charter member of the National Association of Healthcare Consultants (NAHC) and participated annually at their national conventions. He was awarded an "Achievement in Editorial Excellence" from Physician's Management magazine for his outstanding member achievements on their Editorial Advisory Board and is also a former member of the Medical Economics magazine Editorial Advisory Board.
Mr. Fraim co-authored the American Academy of Family Practices, "Organization and Management of the Family Practice" and "Medical Practice Management," published by the national Association of Healthcare Consultants. He has numerous published titles, including: "That 95% Collection Ratio: Is It Attainable?", "The Quickest Way to Ruin Your Practice", "Your Office: Unsafe at Any Speed", "25 Ways to Promote New Doctor Practice", "Work Smarter…Get Home Earlier", "The Physician's Management Guide To Personal Financial Management", "Business Office Equipment Our Management Consultants Recommend" and "Charge Slip: A Bill for All Seasons."
Mr. Fraim was well known for his entertaining lecturing skills, and he performed single subject, full-day and several six-week training programs at medical schools throughout the U.S. as well as one-day programs in business principles of practice management nationwide. Mr. Fraim has been a visiting lecturer at the University of Tennessee since 1959. He presented one-day seminars teaching the five basic steps in preparing a marketing plan in OK, TN, MS, and KY, and is the writer, editor, and producer of over 24 one-hour recordings on business practices for medical offices.
He also participated in seminars at the Wharton School of Business and the Royal Society of Medicine, London.